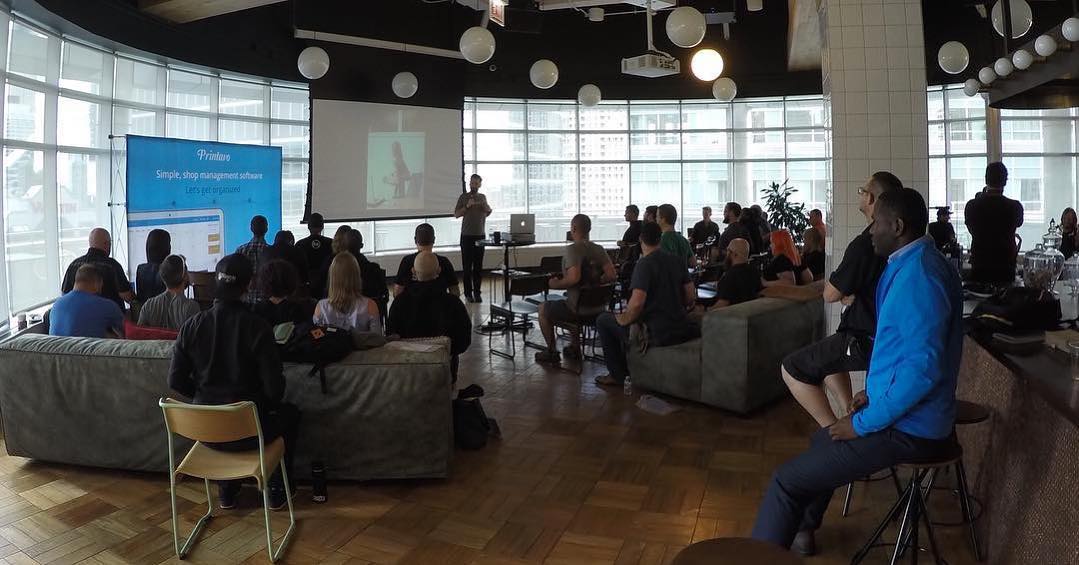 History
We started in a back room with a modest 4-color Riley Hopkins screen printing press. Based out of University of Illinois, our custom apparel business was a hit with the college market. Growth was fast: more and more jobs piled into our schedule. We wanted to beat deadlines, print more, and focus on super-fast turnaround. But it was impossible: PayPal, QuickBooks, Google Calendar and email held us back. We could barely understand where a job was or what we were supposed to do next. We burned a few important clients in the chaos and immediately knew things had to change.
We needed to find a simple solution to stay organized. Our team was incredible, but they were not rocket scientists. Simplicity was key: we needed to be able to quickly train anyone. We also needed a cloud-based solution that we could easily access from the web. We were constantly on the go, dropping off orders and pitching our services to students, organizations, teams, and University administrators. I wanted our staff to log in anywhere, access their jobs, and know exactly where they were and what would happen next.
We never found a solution to meet all of our needs. But I knew there had to be a better way – even if I had to build it myself! I reached out to Ryonet, the industry-leading screen printing supplier, with some ideas. They loved what they saw, gave me great feedback, and encouraged me to build the system I'd described. With Ryonet's approval in-hand, I took the leap and learned to code. After lots of reading, studying, testing, and plain old trial-and-error, I built the first version of Printavo's simple shop management software.
Fast forward to 2020: Printavo helps thousands of shops all over the world keep their workflow organized so they can focus on growing their businesses. We're proud of how far we've come – and we're just getting started.